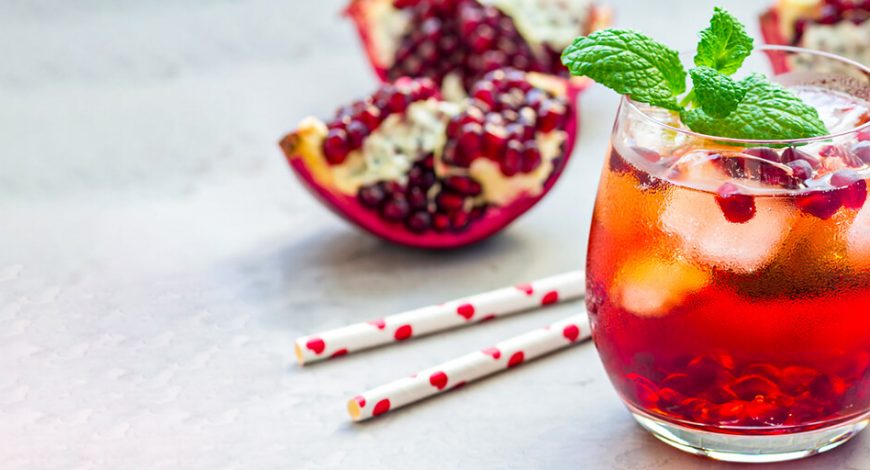 Holiday Pomegranate Mojito
Now you can set the mood for holidays or festivities with a simple but amazing drink. With Storia Pomegranate Masala, you can prepare a fresh batch of this beautiful drink in just a few minutes.
Ingredients:
For the mint syrup:
1 cup of sugar
2 cup of water
2 sprig of mint(rinsed)
For the Mojito:
60 ml of Storia Street Style Drinks- Pomegranate Masala
60 ml of mint syrup
2 lime wedges
10 fresh mint leaves(torn)
60 ml of lemonade(freshly squeezed)
60 ml of club soda
Garnish: sprig of mint and pomegranate seeds
Make the Mint Simple Syrup
Procedure:
Step 1: Place the sugar and water in a small saucepan and bring to a gentle boil over medium-high heat while stirring constantly until all of the sugar is dissolved.
Step 2: Add the mint (no need to remove the leaves, the full sprig will make it easier to remove later).
Step 3: Reduce the heat, cover, and simmer for about 10 minutes.
Step 4: Remove from heat and allow to cool. Steeping for 2 to 3 hours to get a good flavor. Test periodically until it reaches the desired flavor.
Make the Mojito
Procedure:
Step 1: Muddle the syrup, lime, and mint leaves in a highball glass.
Step 2: Fill the glass with ice.
Step 3: Add the pomegranate drink and lemonade. Stir well.
Step 4: Top with club soda.
Step 5: Garnish with pomegranate seeds and fresh mint.
Step 6: Serve and enjoy!