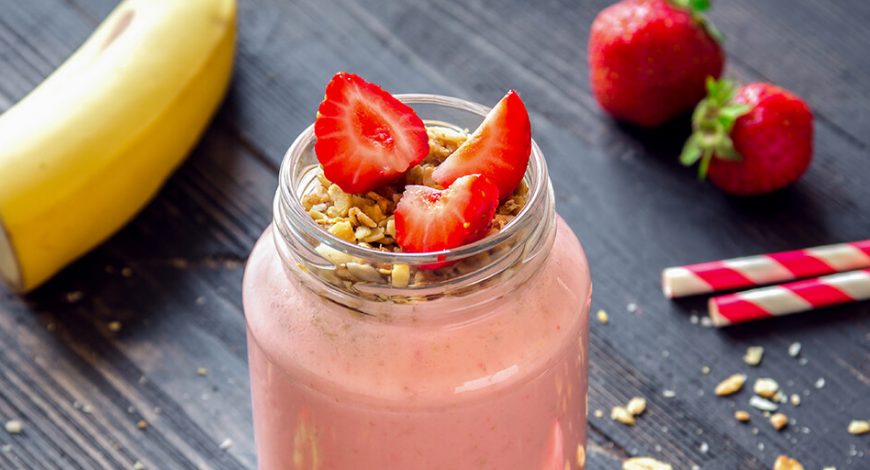 STRAWBERRY BANANA OATS SMOOTHIE
EVER CRAVE A DESSERT THAT TASTES GOOD AND IS SIPPABLE TOO? GLUTEN-FREE AND DECADENT, HERE'S A QUICK AND HEALTHY RECIPE WHIPPED WITH A STORIA STRAWBERRY SHAKE.TRY THISFRESHSMOOTHIETHAT WILL TURN YOURSWEETINDULGENCEINTO A HEALTHY TREAT!?
INGREDIENTS:
1/2 CUP OF OATS
1 & 1/2 CUPS STORIA STRAWBERRY SHAKE
1 CUP VANILLA YOGURT
1 TABLESPOON HONEY
1/4 TEASPOON PURE VANILLA EXTRACT
SCANT 1/8 TEASPOON PURE ALMOND EXTRACT
1/4 TEASPOON GROUND CINNAMON
METHOD:
Step 1: PUT OATSINTO BLENDER.
BLEND THEM UNTIL THEY ARE GROUND INTO A FINE POWDER.
ADD STORIA STRAWBERRY SHAKE, VANILLA YOGURT, HONEY, VANILLA EXTRACT, ALMOND EXTRACT, AND CINNAMON.
NOW, BLEND EVERYTHING TOGETHER UNTIL COMPLETELY SMOOTH
SERVE IMMEDIATELY, AND ENJOY!